A Unique Origami Party is a celebration to remember for lifetime!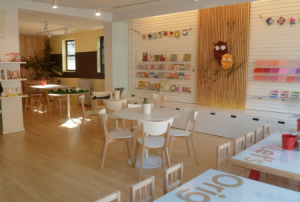 Your child can choose themes from the origami software library that they would like to share with party guests. We have a variety of animals and objects a child can choose including a rabbit, bear, frog, flowers, an airplane, boat, and/or truck. We also have many colors and designs of origami paper so that each child can choose according to preference and express their creativity.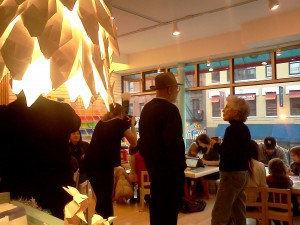 Along with the origami instructor staff, each child will try hands-on origami using the touchscreen-based origami software. After folding an origami, each child has the opportunity to decorate origami with stamps, stickers and decorative pens. Not only will children make memories with this unique experience, they will be have the chance to save those memories by taking home their very own origami art, and the knowledge of folding learned for years to come.
We design parties for children (younger children will require greater supervision/assistance).  Two staff will help the party.
Exclusive use of studio: you can use the back of the studio for cake and refreshments with tables and chairs.  Please bring tablecloths for two tables.
Origami kit including papers and decoration materials, plus use of software and touch-screen tablets
Assistance with set-up and clean-up
Available Saturday & Sunday Party Times
11:00am-1:00pm, 2:00-4:00pm, 4:30-6:30pm
Pricing
$450.00 for a 2-hour party for up to 15 children (2 staff)
$15.00 for each additional child (maximum of 25 children)
additional $80.00 for each private origami instructor
*Two hours include the set-up and clean-up time.
Families provide decorations, cake, food and beverages.
Policy
A deposit of half the total party cost is required to reserve a party.
There are no refunds for cancellations made less than 1 month in advance.
The remaining balance is due one week prior to the party date.
Parties are scheduled on Saturdays and Sundays only.
For more information, please contact us at (718) 360-5435 or parkslope@tarosorigami.com
Booking
Park Slope, Brooklyn, NY
95 Seventh Avenue, 2nd Floor (between Union St. & President St.) Brooklyn, NY 11215
T. 718-360-5435
E. parkslope@tarosorigami.com
W. tarosorigami.com
>>>Booking at Park Slope Studio
Rockridge, Oakland, CA
5322 College Ave, Oakland CA 94609
T. 510-596-9091
E. oakland@tarosorigami.com
W. oakland.tarosorigami.com/
>>>Booking at Oakland Studio