Taro's Origami Studio was on set yesterday for the filming of an episode of the "Untitled Action Bronson Show" tv show at the Vice Studio in Brooklyn NY.  Action Bronson is a famous Amercian rapper and chef, and has has several television projects revolving around food, entertainment, and the arts. For this appearance, four of the trained Taro's Origami staff went out to the Vice studio and showed off some of the origami artform as well as teaching both Bronson himself and some of their staff.
Taro's Staff was ushered into the building and set up some origami on a corner booth of the show, where they folded models and interacted with the Bronson, the crew, and the rest of the band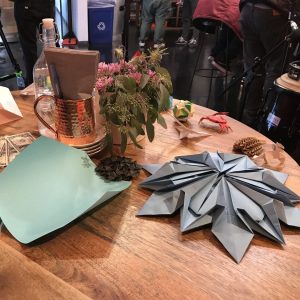 Here is a photo of Taro's Origami staff member Thomas Romero sitting in the booth in front of all the signed photos of past guests on the show.  Before filming there was also a munch of other things going on including music from the house band and a wine tasting.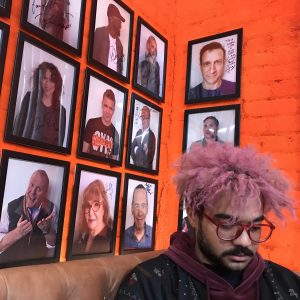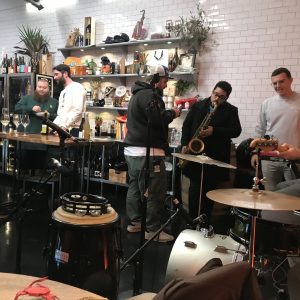 Finally after some other segments of the show were filmed and some really great food was passed around from local restaurants, Frank Ling the manager of the Park Slope Brooklyn studio taught Action Bronson an origami dove for the holiday season while other cast and crew members looked on.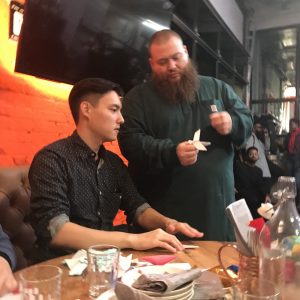 If you'd like to see a little more about the show, please visit here and once the episode airs, we fill also post some video from the show.