PRICING FOR OUTSIDE ORIGAMI EVENTS:
*These prices include sending our staff anywhere in Manhattan, Brooklyn, and Queens.
*They also include all of the traditional 15cm Japanese origami paper need for each item.
Origami Lessons:
There are two basic kinds of origami lessons that we provide: classes with our professional origami teachers, and classes with our specially designed and created tablets.
-Classes with a Teacher: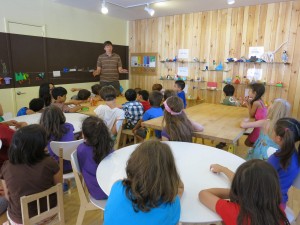 These classes (up to 20 people) are perfect for field trips and any other group of people that want to learn some origami.  Our trained origami staff with work with you to pick out which models you would like taught and then we help make sure that everyone achieves those models.  Classes can also be taught with a full introduction to the history of origami and how it has grown in both popularity and importance in today's world.
– $250 for an hour, $200 for each additional hour
– $80 per hour for an additional instructor to demonstrate and assist.
-Classes with our Tablets: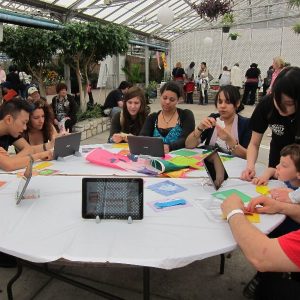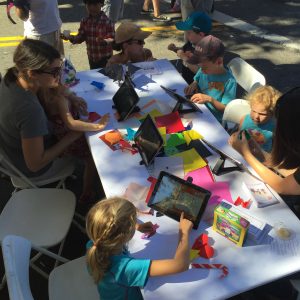 Origami classes with our tablets are perfect for parties or events with a diverse group of folders.  At Taro's Origami Studio, we value precision and accuracy in folding, but because every origami folder has their own skill set and pace, it can be hard to teach a group of people at different folding abilities at the same time.  That is why we created these tablets so that people can go as fast or slow as they would like.  The tablets have not only origami diagrams (like you'd find in an origami book) but also step-by-step video animations showing exactly how the paper moves for each transition.  And if you miss a step, it's as simple as pressing the "back" button to replay that move so that you are stuck much less often.  This way, classes are much more efficient because everyone can fold what they want, without having to either wait for everyone else to catch up, or slow down for them
We bring up to 5 tablets with hundreds of origami models built into them and set them up either at one station, or around the room.  An instructor is also provided to move around the room and provide help if needed.
– $175 for an hour, $125 for each additional hour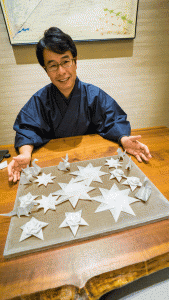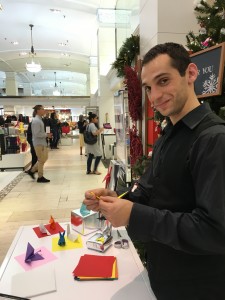 Taro's also provides origami booths where our amazing folders can create awe-inspiring models for your guests to take home.  Taro's will work with you to pick out models that integrate the best with your brand and style and then present them in a pleasing display so that people can select something they like and watch us fold it right in front of them.  This is a unique way to engage your customers with not only your brand, but also the magic of transforming paper into works of art.  If you'd like we are also available to fold a wide-range of amazing models upon request.
– $250 per hour (1 origami expert)
– $100 per hour at the same location for additional origami experts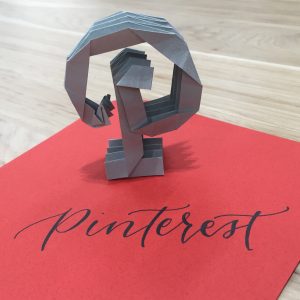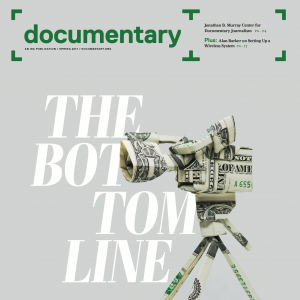 There are many different ways that Taro's Origami Studio has helped companies in the past and can help your current project.  From origami logos, to stop-motion videos, to on site lessons, and giant installation and performances we have expertise in all of the ways to fold paper.  Each project is unique though so please contact our Corporate Projects Manager, Ben Friesen directly at Ben@tarosorigami.com to get an accurate quote for your specific needs.  You can also see a large amount of our projects here on our corporate commissions page.  As a rule of thumb, our normal rates for corporate work are :
– $100 per hour for unique origami design
– $50 per hour for origami folding and production
High Volume Orders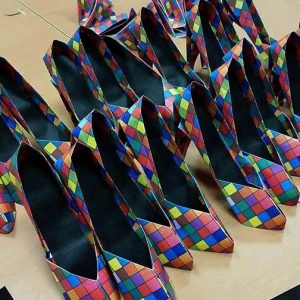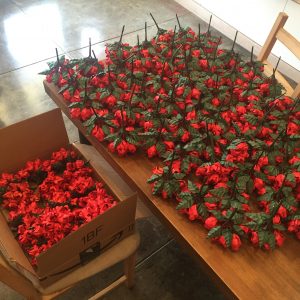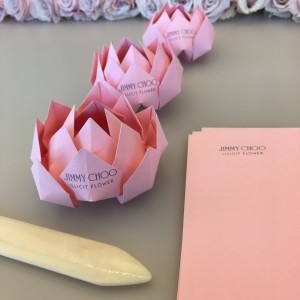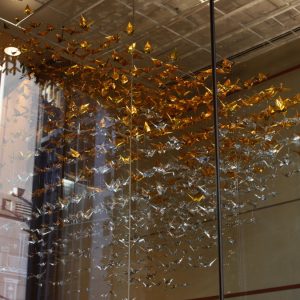 Our artists can also quickly create centerpieces, set decorations, and party favors for your private or commercial event.
– Chose from over 50 colors of standard origami paper, or any of our other papers like handmade washi or chiyogami
– $50 per hour for origami folding and production
– $30 delivery charge for projects in Manhattan or Brooklyn
– For projects larger than 100 pieces we ask for 4 weeks of advanced notice.
– We also reserve the right to add a 20% charge on the entire project for rush orders needed within 14 days, or a 40% charge for one with less than 7 days notice.
Types of Paper
We are able to use many different kinds of materials in our origami projects, but these are the two most readily available from our studio:
*Traditional Origami Paper: Also referred to as kami, this paper is about 6" x 6" (or 15cm sqaure to be exact) and features a solid color on one side and is usually white on the other. Foil paper is also available, in gold, silver, and a few other assorted colors. Great a for nice clean look. This paper exhibits tremendous versatility and is a staple of every origami folder.
*Washi: We source a high quality of Washi paper from Japan. Available in a wide variety of colors and traditional patterns. Washi, first made in Japan, is produced in a way similar to that of ordinary paper, but fewer chemicals are used. The process is a long and intricate one that is often undertaken in the depths of winter, as pure, cold-running water is essential to its production. Cold makes the fibers contract, producing a crisp, textured feel to the paper.